Written by:
FG Admin
on Tuesday, September 28th, 2010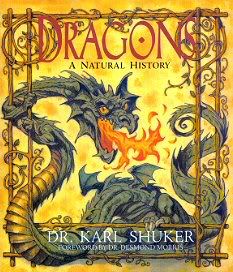 After seeing Beast Legend's episode for the dragon, it reminded me that I had a certain book sitting around that contained information about dragons. My father actually spotted this book at some random yardsale one weekend and gave it to me as a surprise. I remember my first reaction was that I loved the dragon on the cover and then I just set it aside and completely forgot about it until that episode reminded me.
When I first started reading through this book, I'll admit that it was slow. I'm thankful that he gave quick summaries when it came to stories on specific dragons but I didn't really find it all that interesting. This book is split up into 5 chapters. Serpent Dragons, Semi-Dragons, Classical Dragons, Sky Dragons, and Neo-Dragons. Sometimes dinosaurs are brought up for comparison – such as people may have found a set of bones and believed they were dragons. Sometimes people claimed that certain beasts really did exist but went extinct. Stuff like that.
If I were to pick the top three that I liked, right away Quetzalcoatl would make the top of the list.  The dragons of China would be next. And then to finish it off, I thought the story of the Bunyip was quite odd. A man finds some young colt/calf and takes it home to his tribe. The mother Bunyip comes around and the entire tribe somehow gets turned into black swans? Creepy.