Written by:
FG Admin
on Wednesday, December 1st, 2010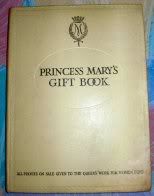 I believe the most interesting book I have in my semi-small collection of books is the Princess Mary's Gift book from 1915. Inside, it says:
All profits from sale are given to
THE QUEEN'S "WORK FOR
WOMEN" FUND
which is acting in conjunction with
The National Relief Fund
This book has 14 tipped-in color plates:
1. J. J. Shannon, R.A. – frontispiece portrait of Princess Mary
2. Russell Flint, A.R.W.S. – A Holiday in Bed
3. Charles Napier Hemy – Charlie the Cox
4. R. Talbot Kelly, R. I. – Bimbashi Joyce
5. E. J. Detmold – The Ant Lion
6. Arthur Rackham, R. W. S. – "So nobody can quite explain Exactly where the rainbows end."
7. Edmund Dulac – True Spartan Hearts
8. Norman Wilkinson, R.I. – Big Steamers
9. W. B. Wollen, R.I. – She stood and swung the lantern slowly from side to side.
10. Claude A. Shepperson, A.R.W.S. – A Spell for a Fairy
11. A. C. Michael – The Scarlet Pimpernel to the Rescue
12. Eugene Hastain – "He can march in the queue Of the Good and the Great, Who battled with fate And won through."
13. M. E. Gray – Instructing her dolly in the art of going off nicely to by-byes.
14. Carlton A. Smith, R.I. – Fleur-de-Lis
Left – "A Spell for a Fairy" by Claude A. Shepperson
Right – "Big Steamers" by Norman Wilkinson
I have not read the book yet. I keep meaning to but I put it aside because it's so old and I'm not sure it can handle being opened so many times. Now that I'm thinking about it, I might as well give it a try.