Written by:
FG Admin
on Tuesday, August 30th, 2011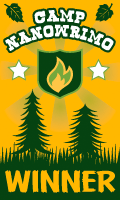 Official Word Count: 50,001
I am just as surprised as you are. I really, really am. After chatting all day with my good friend, the topic of NNWM came up and I told her a few times that I was not going to finish it. I couldn't. The most I ever wrote in one day was November 14th with 3,370 words only because that I had finally arrived to a scene that I ruminated on and just hammered it out. However, the more I talked with my friend, the more the urge kept coming up that I should at least finish the story or I'll never go back to it. I pulled out my word count which was 44,359 words as of the 26th before the lights went out for a few days.
After doing the math and figuring that I just needed 5,641 words left, divide that with two days (today and tomorrow), maybe I could try and wing half of it today and the other half tomorrow. I pretty much knew how it would end and it was a bit complicated so I knew I had to wing it anyhow because I wouldn't remember the details down the road even though I wrote it down.
So instead of trying to stretch things out to make it over the days, it became a cram session. I was going to go over the ending and then pray that I had enough content to make it to the end. As I pounded it out while chatting with my friend and talking about making up names I needed at the last minute for various djinns and on and on…  I am SO HAPPY to say I banged out an ending for it. I don't think it's a cheap ending. I think I really filled in the details and made it very workable… and to come to 50,001 words is an unusual stopping point but I will take it. I will take that so happily!
I will never ever again look at anyone else's "50,0** words" and assume they did some last minute shortcut to get there. I now had a taste of what a 'cram session' was like, instead of slowly stretching the story over the coming days to make sure I meet the site's daily craving for 1,667+ words even if you already met 50,000+ words.