Written by:
FG Admin
on Monday, September 5th, 2011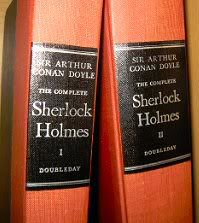 Sherlock Holmes by Sir Arthur Conan Doyle
I read Volume I back in the very late 90's and I remember I couldn't get enough. I read through the stories and absolutely enjoyed it. Then once I hit Volume II, the excitement died out. I remember that by the time I got to "The Hound of the Baskervilles", it was boring and dry. I was determined to make it to the end but never did.
For the last couple of weeks, I decided to pick up the second volume and give it another crack. I pushed and pushed and made it to the last page. I never recaptured the love that I had for Sherlock Holmes during the first volume.
What got me to pick up the second volume was that I was listening to some writer (I can't remember his name) talk about when you create a character that everyone loves, you have to be prepared to carry that character on, you have to make sure you love this character. He then gave an example of Doyle getting so sick of Sherlock Holmes that he threw the guy right off the falls, then due to popular demand, he was 'forced' to bring Holmes back. I remember the first volume ending that way with Sherlock's death and then the second volume resuming with Sherlock's return.
It got me to wondering if the reason I lost interest was because Doyle lost interest. Did I find the stories boring because he lost interest in Sherlock Holmes? Or did I just grow out of it eventually? Ah, well… Another book checked off the list.