Written by:
FG Admin
on Saturday, November 5th, 2011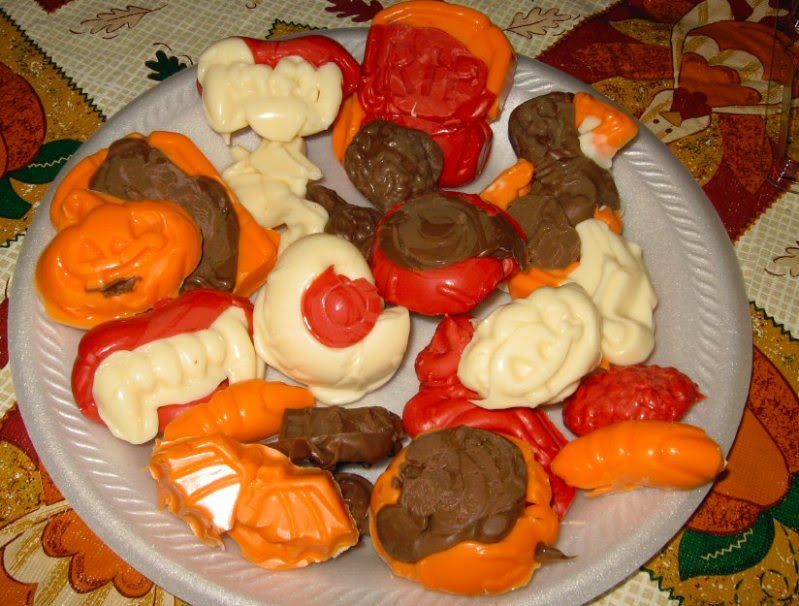 Day Five of NaNoWriMo. Word Count: 8,693
It's still going along slowly. Still scraping the bottom of the barrel to grab the next scenes out of nowhere but still hoping I'll break down a wall and find some adventure waiting to be told. 😉
My three gingerbread folks are finally sealed and done. Painting the other two gingerbread folk from this batch of "Gingerbread People" before I start on the pieces from the Gingerbread Flower Shop.
In the meanwhile, I was given a box of Wilton's Halloween Candy Making Kit since it was on sale. Came with three plastic trays to squish all that colored chocolatey goodness into. Of course, it didn't work out so well. Trying to juggle four different colors while some were hardening while I was trying to reheat the others. I gave up and just squished all the chocolate into the molds. After all was said and done, the taste of the chocolates reminds me of the chocolate Easter bunny. Tastes good, in other words. I guess I won't be a Chocolatier any time soon…  but hey, the colorful mess sure is tasty.