Written by:
FG Admin
on Wednesday, November 30th, 2011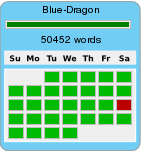 So it's the final day of November and NaNoWriMo 2011 comes to an end. I crossed the finish line today with 50,452 words. This story worked my last nerve. It was like trying to drag an inconsolable child that often threw temper tantrums or tried to run away, forcing me to chase it down. The story has a beginning and a middle. I never reached the end. I thought the scene that was supposed to end the story ended up feeling like it didn't end the story whatsoever. I found myself wondering, "What kind of an ending is that? You have loose ends and people will want to know where it goes from there – if they're still interested at this point."
I don't see myself coming back to this story. I don't know. There's so much that has to be torn up and rewritten as it is and I still don't know how to end it.
It turns out that CreateSpace changed their offer. Instead of getting a free proof copy of your book like last year, they changed it so that you must pay for your proof, must approve the book, and then you can order five free copies of your book. You can keep it private so that no one knows about it but it still counts as being published, apparently. Taking that extra step to be published is not something I want to do so I won't be pursuing that route. I was thinking that if they offered a free proof copy again, I would fix up my sequel I wrote during Camp NaNoWriMo and have a copy of that for fun. Oh well.
Congratulations to all those that crossed the finish line!