Written by:
FG Admin
on Thursday, May 24th, 2012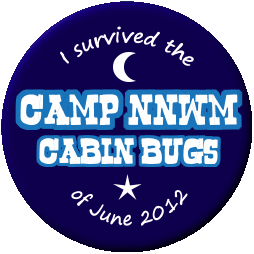 A bit of silliness going on is all!
We were assigned to cabins yesterday. Something went wrong so they re-assigned us this morning. Then something went wrong again and they re-assigned us for the third time. NNWM has tweeted that this go is for real this time.
The first cabin, I was in with a bunch of writers in the fantasy genre which is what I requested. Unfortunately it appears that my request for writers in the fantasy genre was ignored for the second and third try. It'll be weird to chat with cabin mates that don't have fantasy as their preference.
We'll see if this is the final time they shuffle us around. 😉 I'm not too worried until June gets here to see if the cabin is really our final for the month.
As for the story, um… more plots needed, yup. hehehe.