Written by:
FG Admin
on Saturday, June 4th, 2011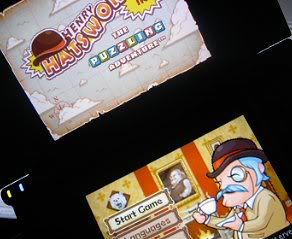 I re-discovered this game today while looking through my things. I remember getting this game for Christmas 2009 and immediately dismissing it because I was sure that it was a crappy game. After reading reviews about how addictive it can be, I opened it up and gave it a try. It really is addictive. You're playing levels on the top screen and then you have to switch to the bottom screen to match up blocks of 3 or more… You can't ignore the puzzle aspect because the monsters you kill on the top screen will fall down to the bottom screen and will come back to haunt you if you don't take care of them. There's also bonuses and power-ups in the blocks as well.
For a good while, I was stuck on the boss level with this old man and large nurse. After lots and lots of trying, I finally got through that one. I made it all the way to the last world – Tealand. I've just been stuck on level 1 ever since. I'm trying and trying but I just can't get beyond this at all!
I even hunted down a video on youtube and someone has a playthrough of the level.
Get around to 2:45 where it's the part of the level where all these creatures are descending on you at once. This is when I usually die because I just can't get them all fast enough. A couple times I win and advance to the second part of the first level. Ugh. Just can't get beyond it…
I also just found out that the HHitPA devs released Monster Tale in March where it's about Ellie and her pal, Chomp. After watching a few videos about it, I am sort of interested in trying it. hehe.