Written by:
FG Admin
on Thursday, July 21st, 2011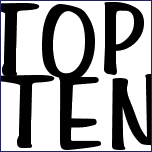 The Daily Post asks:
There are tons of blog posts out there and all too many of them take the form of top ten lists. Perhaps David Letterman is to blame, or there's just something satisfying about the number ten that we can't avoid. They've been around for a long time, and there are even websites dedicated to top ten lists for everything.
Either way, make a list of the reasons why top ten lists are often so disappointing. If you can't quite come up with 10, go for a Top 5 list. And if you're feeling more positive today than I am, go for a top ten list of why top ten lists are awesome.
—
I decided to go the 'awesome' route.
The top ten list about why top ten lists are awesome:
10. It encourages discussion. People like to point out certain stuff that made it to the list or point out stuff that should've been on the list. If it's a top ten that lets everyone vote for what should be listed, that's even better.
9. It allows you to group together the best of the best, especially funny ones where you're counting down to the final most hilarious pick of them all.
8. If it's a top ten of products and/or companies, this helps you to decide whether to spend money on the items or not.
7. A top ten list inspires other people to make their own. Like this prompt!
6. Usually top ten lists have a specific theme. Movies, books, games, songs, etc. Because of this, you might discover new things you never knew about something you're interested in. You may end up doing new things and visiting new places.
5. The top ten list has been used to place importance on a group of things, to bring attention to them – such as the most dangerous snakes or the most wanted criminals!
4. …
And uh… well… ran out of steam on this one. I guess top ten lists only work when you're not re-hashing the one concept over and over. I thought I had a long list but after chatting it out with a friend for almost two hours, it seems most of them could be categorized under the stuff I already listed. No idea what else I can add! hehe.