Written by:
FG Admin
on Sunday, August 14th, 2011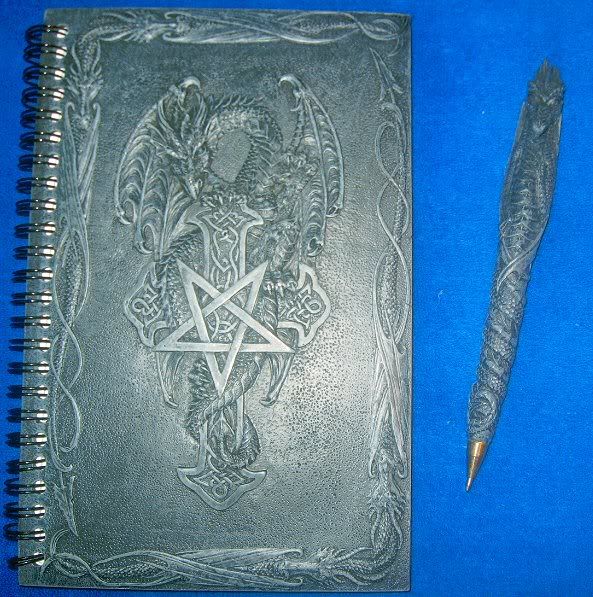 This is probably the last blank journal I have ever purchased. It was sold on a local 'yardsale' site for $2 and I just pounced on it. I didn't care of if it was used, if it had any pages torn out, etc… They sell for a lot of money and I just had to have one. (Didn't realize there was an inverted star on it.)
Problem is, I already own a stack of blank journals and lined journals that never got used. I remember receiving some journals that had the Harry Potter theme on it. One was "The Blank Book" that was packaged with some book from the Series of Unfortunate Events series.
They're so incredibly neat to have but I just never know what to write in them. I currently have one 'leather' journal where I've written a few entries in it after reading from an 'ancestry/family tree' site that it never hurts to keep an actual journal to write about daily events in. It may be boring and dull to you now but a descendant may be fascinated to know how you lived a hundred years ago.
I did think about writing my story in one of the journals but I just don't think I'd have the interest to write the whole thing down. Some part of me may cave after 100 pages and want to print them out via printer instead. On the other hand, I am a little nervous that everything is on computer or on my external harddrive. I make several copies so that if something happens to one or the other, I'm safe. Printing out on paper is a good idea but … one day, a story written in a blank journal may become valuable!
The only question left is… Thinking of the future if the books ever got passed down, do I print the letters out or write in cursive?  ( Cursive is a dying art form. )