Written by:
FG Admin
on Friday, August 19th, 2011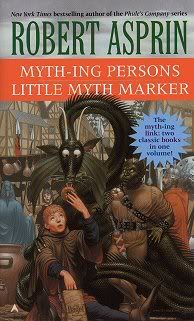 Title: Myth-ing Persons & Little Myth Marker
Author: Robert Asprin
Back Cover:
Myth-ing Persons
To find his missing partner Aahz, Skeeve must sleuth in another dimension – where day is night, humans are monsters, and magic doesn't work…
Little Myth Marker
When Skeeve bluffs his way into a high-stakes poker game – and wins – he's saddled with Markie, a pint-sized IOU with a monster-sized talent for trouble…
–
Yes, what a shocker… I actually finished a book! Though, technically, two books. Twice as impressive, I dare say.
I read 'Myth-ing Persons' in July and then sort of crept through 'Little Myth Marker' through August. I think it was more of a struggle because it seemed to be a lot of talk, talk, talk. I guess the book was based on fleshing out the characters. Quite a few of them shared tidbits about themselves that Skeeve never knew. I pretty much figured out who was what and there didn't seem to be much of a plot besides the whole 'Dragon Poker' business and 'Ax'.
At least I got this one out of the way.