Written by:
FG Admin
on Tuesday, January 10th, 2012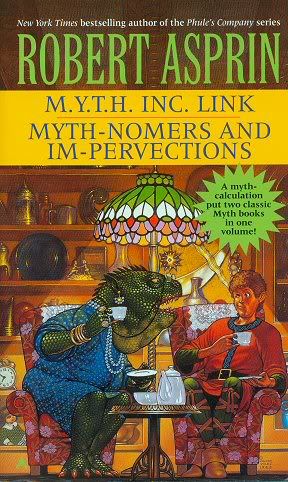 M.Y.T.H. Inc. Link
and
Myth-Nomers and Im-Pervections
Author: Robert Asprin
ISBN: 0-441-00969-7
Cover Art by Walter Velez
Back Cover:
M.Y.T.H. Inc. Link
Being President of M.Y.T.H. Inc. doesn't keep Skeeve from sleuthing around some very out-of-the-way – and dangerous – dimensions.
Myth-Nomers and Im-Pervections
Skeeve's demon cohort, Aahz, leaves in a huff. Now Skeeve finds himself in the missing Pervect's home dimension – the worst neighborhood in the galaxy…
So I thought…
The book opens with the author's introduction to Myth Inc Link where he goes into detail of how the Myth series came to be and where he plans to go with the next six books of the series. He says that instead of each book having its own 'tale with an ending', it'd be the big picture that would run through the books.
In Myth Inc Link, he writes from several characters' point of views so that we can see how each character ticks and why they act the way they act. The biggest surprise was Gleep (sadly). It didn't feel like a story. Rather just a collection of stories and I was hoping he wasn't going to keep using that format through the rest of the books.
In Mythnomers and Impervections, Skeeve had to go to Perv and track down Aahz. When it starts out, we get the idea that Perv is quite an amazing yet filthy metropolis. This book goes on and on and on and on and on… and on… with Skeeve reflecting about his own troubles to the point that the story doesn't really go anywhere.
He interacts with the same characters. JR, some homeless Perv. Kalvin, a Djin. Edvick, his taxi driver. Even when he visited Aahz's mother, the scene was so quickly written that I wasn't sure what the point was before Skeeve quickly walked back out (Why the book cover was based on this shortly written scene, I don't know…).
It's clear that that story is rolling on through the books since they're heading off to Klah to deal with a problem there.