Written by:
FG Admin
on Friday, June 8th, 2012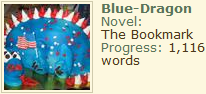 So how's that word count coming along? It isn't.
There's always a new experience. Always. It's fun. Isn't it?
I wrote 928 words on the first day and petered out.  Day four, I wrote 188 words, bringing my total up to 1,116 words. Haven't made another effort since.
I seem to have zero willpower and interest right now. I feel like the car is sitting in the driveway and there's no gas left in the tank. Don't worry, I grabbed the red gasoline tank and hit the road to find some more gas but it just seems like there's no gas station anywhere. I don't even see one on the horizon.
I really did expect to be in the zone like my first three NNWM sessions but I am just not feeling it this time around. I do have the notebook here but I'm lucky if I can focus on the story for more than a few seconds before I think about other things going on.